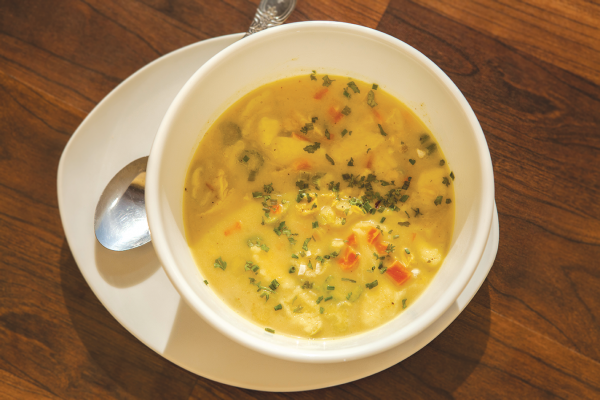 Mulligatawny
By Thrive Life · 7 servings
5m prep time
15m cook time
Bring a taste of India to the table with this meaty soup! by Todd Leonard CEC
Print recipe
---
Ingredients
1/4 c. Bacon, minced
1 1/2 c. THRIVE Seasoned Chicken Slices - Freeze Dried
1/4 c. THRIVE Carrot Dices
1/2 c. THRIVE Celery - Freeze Dried
1/2 c. THRIVE Onion Slices - Freeze Dried
4 tsp. Yellow Curry Powder
1 1/2 tbsp. THRIVE Chicken Bouillon
2 tsp. THRIVE Chefs Choice
1/4 c. THRIVE Velouté (Rich Chicken Gravy)
1 c. THRIVE Granny Smith Apple Slices - Freeze Dried Break into smaller pieaces
1/3 c. Heavy Cream
6 c. Water
Directions
Brown bacon in pot until brown, and drain 3/4 of the fat.
Add all ingredients together in the same pot (except for the veloute, apples and heavy cream) and bring up to a simmer.
Let simmer for 7 minutes.
Add in the veloute by sprinkling and stirring to incorporate evenly and allow to simmer.
Add in the apples and the cream. Allow to simmer for an additional 3-5 minutes.
Allow the soup to rest 3-5 minutes and then serve.
---