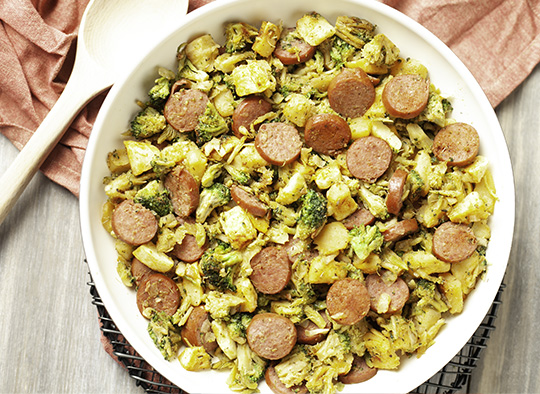 Smoked Sausage, Broccoli, & Butternut Squash Medley
By Thrive Life · 6 servings
5m prep time
20m cook time
Discover a delicious, fuss-free meal with our smoked sausage, broccoli, and butternut squash medley. Enjoy a convenient and wholesome meal that's perfect for any day of the week.
Print recipe
---
Ingredients
2 tbsp. olive oil
12 oz cooked, smoked sausage
3 cups Thrive Life Butternut Squash
3 cups Thrive Life Broccoli
1/2 cup Thrive Life Onion Slices
1 tsp. smoked paprika
1 tsp. thyme
salt and pepper to taste
Directions
Heat 2 tablespoons of olive oil in a large skillet. Slice sausage into coin-like slices and add to the skillet. Cook on medium heat for 5 minutes on one side and 3 minutes on the other.
Add butternut squash, broccoli, and onion slices, and lightly toast for about 2 minutes.
Add 2 cups of water and the seasonings. Simmer, stirring occasionally until the water is mostly reduced.
---