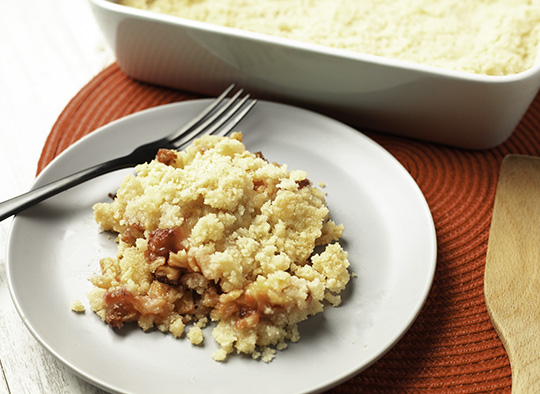 Pineapple Strawberry Crumble
By Thrive Life · 8 servings
10m prep time
30m cook time
Rich and fruity, it's a perfect combination for a summertime dessert. Oh, and don't forget the ice cream!
Print recipe
---
Ingredients
3 cups Thrive Life Pineapple (rehydrated)
2 cups Thrive Life Strawberry Slices (rehydrated)
1 cup plus 2 tbsp flour
1 cup plus 1 tbsp sugar
1/2 tsp salt
1 stick (1/2 cup) of unsalted butter
Directions
Preheat the oven to 375°. Grease an 8-inch square pan.
Toss the pineapple and berries into a bowl with 2 tbsp of flour and 1 tbsp of sugar. Pour into the prepared dish.
In a separate bowl, combine the remaining flour, sugar, and salt. Add butter and combine with hands until a crumbly texture forms. Spread evenly on top of the fruit.
Place in the oven for 25 to 30 minutes or until the top is golden. Let it set for 10 minutes before serving. Serve with ice cream.
---