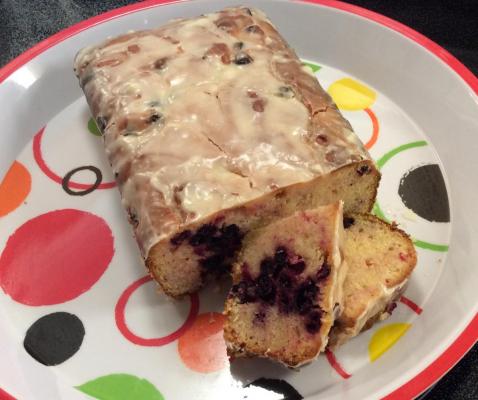 Lemon Blueberry Bread with Honey Glaze
By Thrive Life · 10 servings
15m prep time
50m cook time
A moist and tender bread, full of flavor. by Andi Schrishuhn
Print recipe
---
Ingredients
1/3 c. Butter, melted
1 c. Cane Sugar
2 tbsp. THRIVE Classic Lemonade (Seasonal) Mixed with 1 Tbsp water
4 tbsp. THRIVE Scrambled Egg Mix Mixed with 6 Tbsp water
2/3 c. THRIVE Sour Cream Powder Mixed with 1 1/2 ounces water and set aside.
1 1/2 c. White Flour (All Purpose Unbleached Flour)
1 tsp. Baking Powder
1/2 tsp. Iodized Salt
1 c. THRIVE Blueberries - Freeze Dried Reconstituted.
3 tbsp. THRIVE Honey Crystals Mixed with 1 tsp water, set aside until crystals are dissolved.
3/4 c. Powdered Sugar
Directions
Preheat oven to 375.
Mix together butter, sugar, reconstituted lemonade and scrambled egg mixes.
Mix flour, baking powder and salt.
Alternately fold in flour mixture and sour cream to butter mixture.
Drain blueberries and fold into batter.
Pour into a well greased 8 x 4 loaf pan. Bake at 375 for 20 minutes. Reduce temperature to 350 and bake for 20 to 30 minutes or until a toothpick comes out clean.
Let cool in pan for 10 minutes. Remove bread to a plate. Combine honey and powdered sugar. Pour glaze over bread. Once cool, slice and enjoy!
---