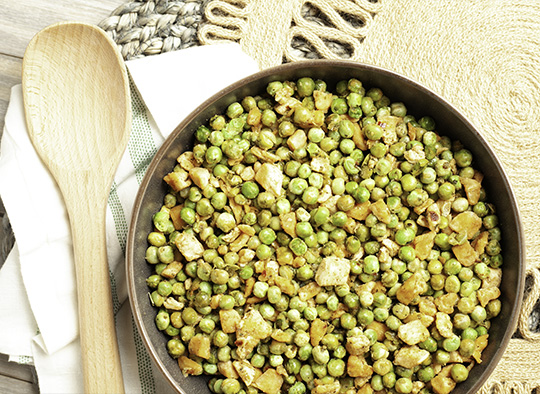 Italian Chicken and Peas
By Thrive Life · 6 servings
5m prep time
10m cook time
Savor chicken infused with aromatic spices and paired with green peas, creating a delicious Mediterranean-inspired meal that's perfect for busy nights.
Print recipe
---
Ingredients
1 1/2 Tbsp. olive oil
1 1/2 cups Thrive Life Diced Chicken, rehydrated
1/4 tsp. salt
1/2 tsp. black pepper
1/2 tsp. garlic powder
1/2 tsp. onion powder
1/4 tsp. paprika
1 1/2 Tbsp. ghee
2 cups Thrive Life Green Peas, rehydrated
1 tsp. Italian seasoning
1/4 tsp. crushed red pepper
Directions
Add olive oil to a large skillet. Heat over medium-high. Once the oil is hot, add the diced chicken. Season with salt, pepper, garlic powder, onion powder, and paprika. Sauté until golden brown.
Add ghee to the skillet. Sauté for one minute.
Lower the heat to medium, then add peas to the skillet. Season with 1 teaspoon of Italian seasoning and 1/4 teaspoon of crushed red pepper flakes. Sauté, occasionally stirring, for 3 to 5 minutes or until the peas are cooked.
---