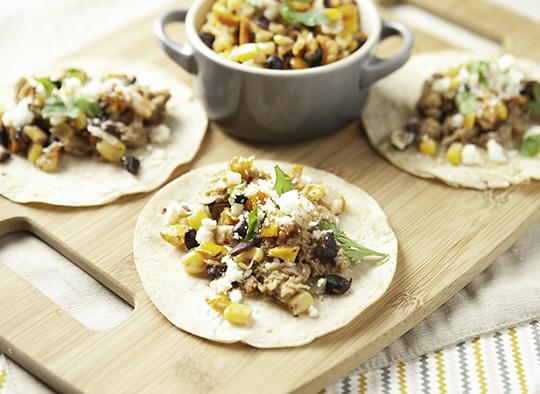 Coca Cola Pork Street Tacos
By Thrive Life · 6 - 8 servings
30m prep time
10m cook time
Feast on flavorful Coca-Cola-marinated pulled pork tacos—a tasty combination of Thrive Life Pulled Pork rehydrated in Coca Cola and salsa bursting with fresh flavors.
Print recipe
---
Ingredients
Pulled Pork:
2 cups Thrive Life Pulled Pork
1 can of Coca Cola
1 clove garlic, minced
1 tsp. salt
1/2 tsp. black pepper
1/4 tsp. cayenne pepper
Black Bean & Corn Salsa:
1 cup Thrive Life Instant Black Beans (rehydrated)
1 can whole kernel corn (keep liquid)
1 cup Thrive Life Tomato Dices
1/2 cup Thrive Life Onion Slices
1 clove garlic, minced
2 tbsp. lime juice
cilantro leaves (optional)
salt and pepper to taste
6-8 small corn tortillas
1/2 cup cotija cheese
Directions
Rehydrate Thrive Life Black Beans following the directions on the can, and chill in the fridge.
In a 1-quart storage container, combine pulled pork, Coca Cola, garlic, salt, black pepper, and cayenne pepper. Marinate for at least 30 minutes.
Make salsa by combining black beans, corn with juice, tomatoes, onions, lime juice, cilantro, salt, and pepper. Stir until mixed thoroughly.
Heat pulled pork in a saucepan over medium heat for 10 minutes. While the pork is heating up, warm the tortillas on a griddle over medium heat.
Place meat and salsa on a corn tortilla shell. Sprinkle with cheese and serve.
---