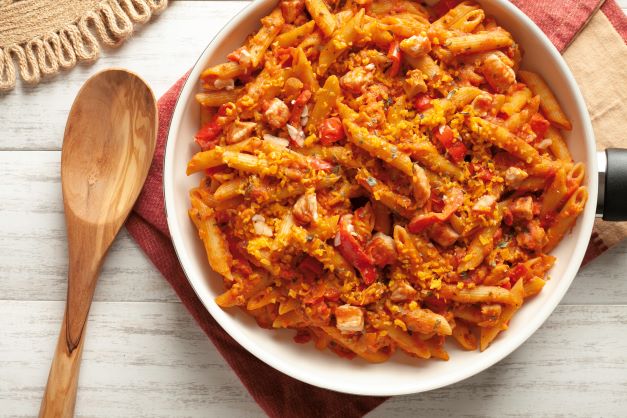 Chicken & Red Pepper Pasta
By Thrive Life · 3 - 4 servings
5m prep time
15m cook time
A delicious pasta filled with great veggies, meat, and cheese. This is something the whole family will love!
Print recipe
---
Ingredients
1 package penne pasta (16oz)
3 cups Thrive Life Red Bell Peppers
1.5 cups Thrive Life Onion Slices
1.5 cups Thrive Life Chopped Chicken
1 jar pasta sauce
1 tbsp. Italian Seasoning
1.5 cups Thrive Life Cheddar Cheese
Directions
Cook penne pasta as directed on the packaging
While the pasta is cooking, heat a large skillet over medium-high heat with a drizzle of olive oil. Add red bell peppers, onions, chopped chicken and 2 cups of water to the skillet, and bring it to a simmer for 7–10 minutes.
Mix in pasta sauce and simmer for 3 minutes.
Gently mix in strained penne pasta. Add Italian seasoning and top with cheddar cheese.
---