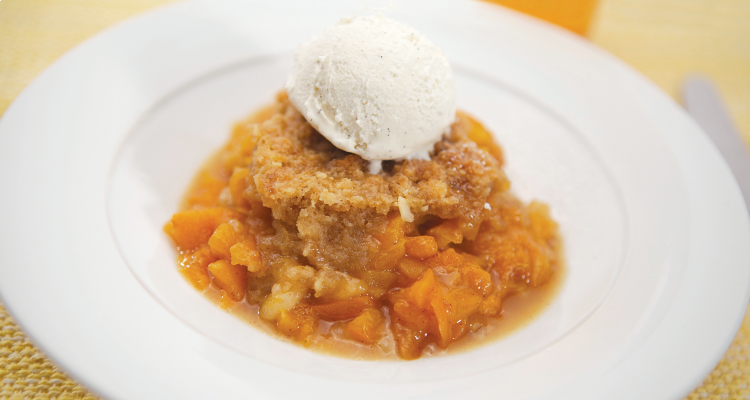 Apricot Cobbler
By Thrive Life · 9 servings
20m prep time
35m cook time
Great served warm, or as a snack for lunches. - by Todd Leonard CEC
Print recipe
---
Ingredients
Filling
3 c. Water
1/2 c. Cane Sugar
1/2 tsp. Cinnamon
4 tbsp. Butter
1 tbsp. Vanilla extract
3 c. THRIVE Apricot
Streusel Topping
1/2 c. Butter or THRIVE Butter (refreshed)
1 c. White Flour (All Purpose Unbleached Flour)
1/2 c. Brown Sugar
1/2 tsp. Iodized Salt
1/2 c. Macadamia nuts, chopped
Directions
Preheat oven to 400⁰ F.
Bring water, white sugar, cinnamon, butter, and vanilla to a simmer and add apricots. Let simmer until thickens to a syrupy consistency (5–10 minutes).
Meanwhile cut butter for streusel into flour, brown sugar, salt, and nuts until crumbly like cornmeal.
Pour apricot mixture into an 8x8 pan and top with streusel topping, spreading evenly to edges of pan.
Bake for 30–35 minutes, or until golden brown and bubbly.
---