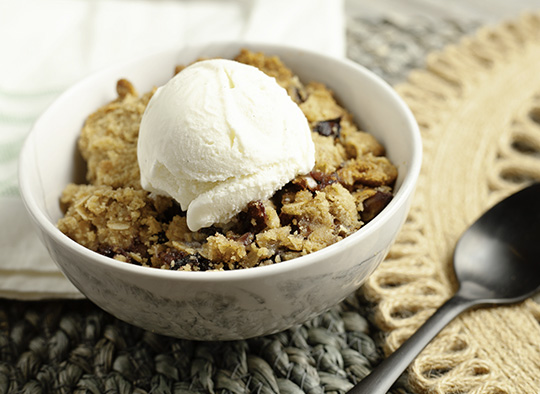 Apple Blueberry Crumble
By Thrive Life · 6 servings
10m prep time
30m cook time
Delight in a golden crumble topping over a delicious blend of fuji apples, blueberries, brown sugar, and cinnamon. Add vanilla ice cream for the ultimate treat!
Print recipe
---
Ingredients
Crumble Topping:
1 cup rolled oats
1 cup brown sugar, packed
3/4 tsp. baking powder
1 tsp. cinnamon
1/8 tsp. kosher salt
1 stick butter, melted
Fruit Mixture:
2 cups Thrive Life Fuji Apples
1 cup Thrive Life Blueberries
1 1/2 Tbsp. all-purpose flour
2 Tbsp. brown sugar, packed
1/4 tsp. cinnamon
Serve with vanilla ice cream.
Directions
Preheat the oven to 350°F. Grease a 9x9 pan with baking spray.
In a large bowl, mix all the topping ingredients except the butter. Add melted butter and combine, forming large crumbles by clumping it in your palm. Put the topping in the freezer.
Mix the apples, blueberries, flour, brown sugar, and cinnamon in a medium bowl. Toss until thoroughly combined.
Pour the fruit mixture into the prepared pan. Sprinkle the cold crumble topping over it with the larger crumbles on top.
Bake for approximately 30 minutes until it's bubbly, golden brown, and the apples are tender (you can test them gently with a knife). Let it cool for about 10 minutes before serving with ice cream.
---