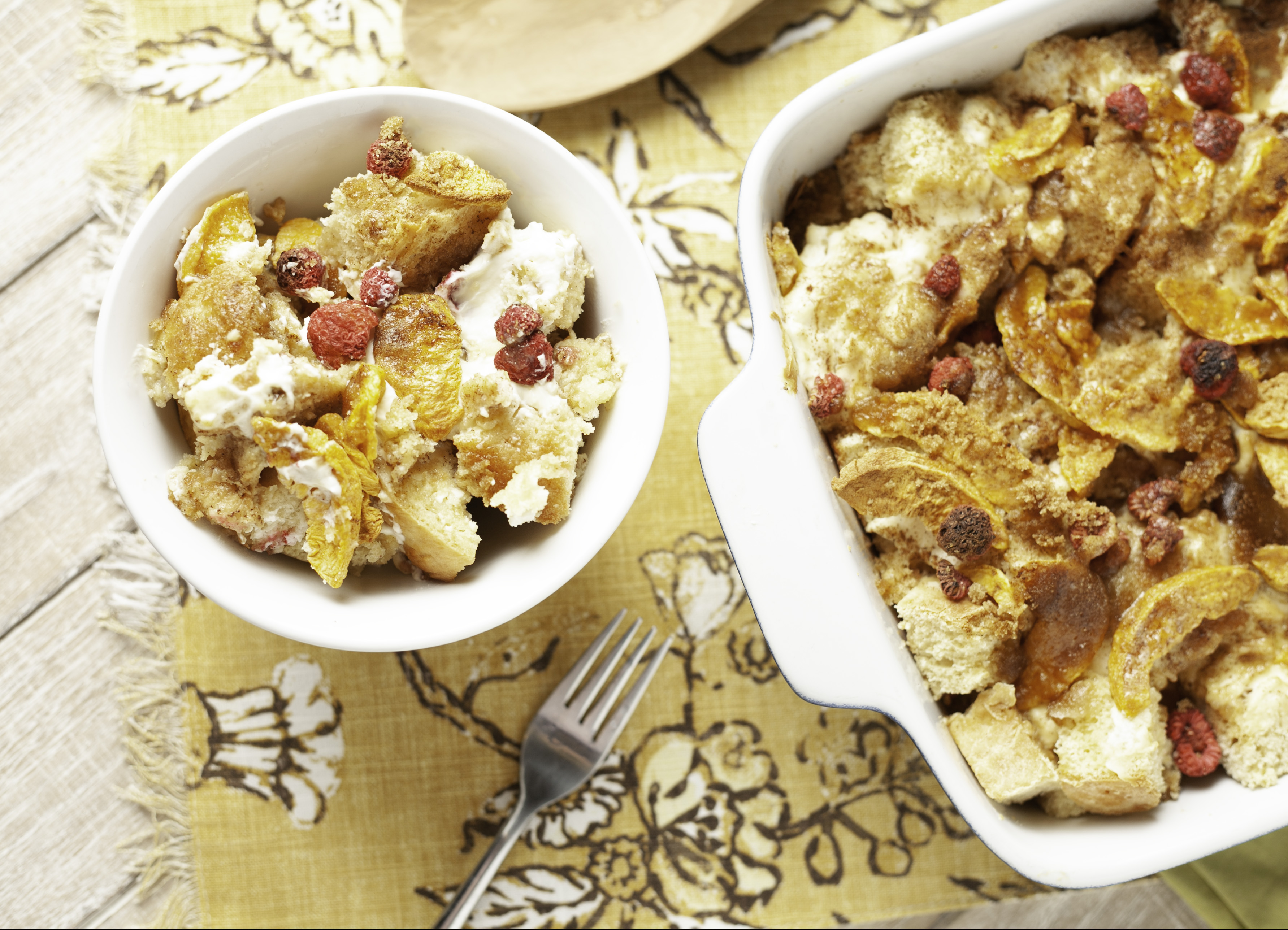 10m prep time
20m cook time
8 servings
Overnight Raspberries, Peaches, and Cream Cheese French Toast
By Thrive Life
Enjoy a delectable breakfast with layers of freshly baked bread, cream cheese, peach slices, and raspberries baked in a rich egg mixture. This results in a deliciously indulgent morning delight.
1 loaf of Prepared and Baked Thrive Country White Dough mix (cut into 1-inch cubes)
1/2 cup Thrive Life Scrambled Egg Mix
1 1/2 cups Milk
1/2 cup Heavy Cream
1 tsp Vanilla Extract
1 cup brown sugar, divided
2 cups Thrive Life Peach Slices
1 cup Thrive Life Raspberries
8 ounces of Cream Cheese
1 cup Ricotta Cheese
1 stick Butter, chopped into 1/2 tbsp. pats
2 tsp Cinnamon, divided
Grease a 9x13-inch baking pan with non-stick spray.
In a medium bowl, combine eggs, milk, cream, 1 tsp. cinnamon, vanilla, and 1/2 cup brown sugar, stirring until the brown sugar dissolves.
Layer half of the bread cubes in the prepared baking pan. Distribute cream cheese cubes over the bread cubes, then cover them with half of the peach slices and raspberries. Layer the remaining bread over the peaches and distribute teaspoonfuls of ricotta evenly across the top.
Add the remaining peaches and raspberries. Pour the egg mixture over the entire pan. Sprinkle with butter, brown sugar, and the remaining cinnamon. Cover with foil and refrigerate for 8-24 hours.
Bake covered for 20 minutes at 325 degrees. Remove the foil and bake uncovered for an additional 20 minutes. Serve warm.