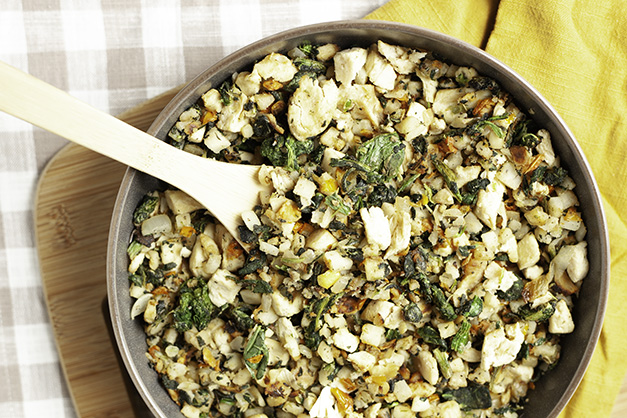 5m prep time
20m cook time
4 servings
Chicken and Potato Hash with Tomatoes and Spinach
By Thrive Life
This Chicken and Potato Hash with Tomatoes and Spinach is a quick and easy one-skillet meal that's perfect for a weeknight dinner. With rehydrated Thrive Life ingredients, it comes together in just 20 minutes and is packed with flavor and nutrients.
2 tablespoons olive oil
1 small yellow onion, diced
2 garlic cloves, minced
2 cups Thrive Life Seasoned Chicken Slices, rehydrated
2 cups Thrive Life Potato Dices, rehydrated
Coarse salt and ground pepper
1 teaspoon Dried thyme leaves
2 tablespoons water
1 cup Thrive Life Tomato Dices, rehydrated
2 cups Thrive Life Chopped Spinach
1 tsp Fresh lemon juice
Heat 2 tablespoons of olive oil in a large skillet over medium-high heat. Add the diced onions and cook, stirring occasionally, until softened (about 2 minutes). Add the minced garlic and cook briefly, stirring continuously.
Add the rehydrated chicken and potatoes to the skillet and stir frequently until they are browned. Pour in 2 tablespoons of water and scrape up any browned bits from the bottom of the skillet with a wooden spoon. Continue to cook, stirring frequently.
If necessary, reduce heat, add salt, pepper, and dried thyme leaves to the skillet, and cook for an additional 5 minutes.
Finally, add the rehydrated tomato dices and chopped spinach to the skillet, and cook for about 2 minutes, stirring continuously. Season to taste with salt, pepper, and fresh lemon juice.