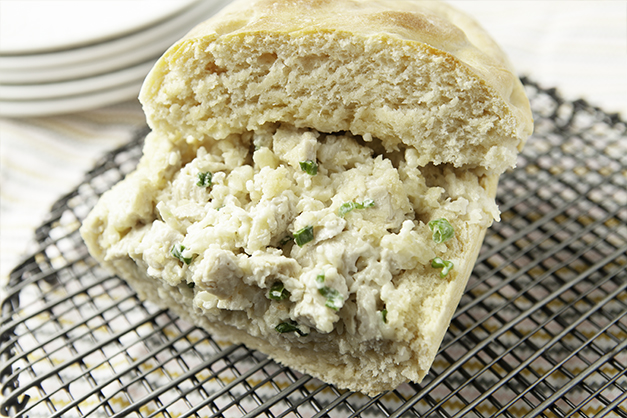 15m prep time
5m cook time
6 servings
Cheesy Chicken Ranch Sandwich
By Thrive Life
Diced chicken and mozzarella cheese smothered in creamy ranch dressing. Masterfully paired with fresh baked bread to make the perfect chicken sandwich.

Tip: Add 1–3 three hours of total cooking time if using Thrive Life Country White Bread Dough Mix
1 Loaf Thrive Life Country White Bread dough mix (baked)
1 1/2 cups Thrive Life Diced Chicken
1 cup Thrive Life Mozzarella Cheese
2 green onions sliced thin
1 cup ranch dressing
Prepare Thrive Life Country dough based on the instructions on the label to bake 1 loaf of bread. Let bread cool.
Rehydrate diced chicken and mozzarella cheese according to label directions in separate containers and let sit for 15-20 minutes.
Preheat Oven to 375°. Line a large baking sheet with Parchment or wax paper.
In a large bowl, mix diced chicken, cheese, green onions, and ranch dressing.
Cut bread into thick Sandwich slices. Spread chicken mixture on slices to make a hearty sandwich.
Bake 5 minutes to melt the cheese and serve.