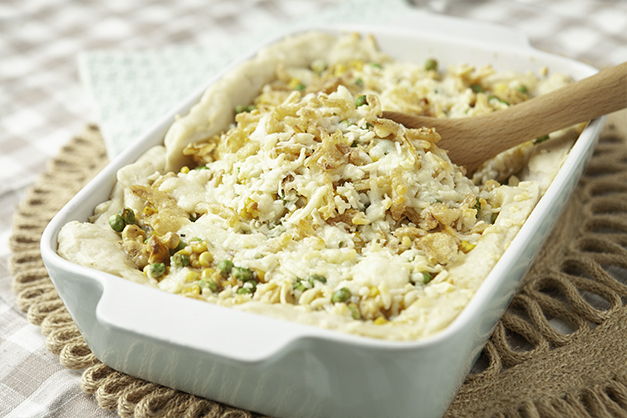 15m prep time
30m cook time
6 servings
Chicken and Mashed Potato Casserole
By Thrive Life
A perfect blend of a hearty mashed potato dinner. This tasty casserole gives you all the comfort and flavor while cutting down on prep.
3 cups Thrive Life Instant Mashed Potatoes (prepared)
1 ½ cups Thrive Life Diced Chicken
1 cup Thrive Life Mozzarella Cheese (divided)
1/3 cup Thrive Life Peas
1/3 cup sweet corn
2 cups Thrive Life Velouté (prepared)
¼ cup of french-fried onions
½ tsp mustard
¼ tsp garlic powder
¼ tsp pepper
Preheat oven to 375°. As you preheat, rehydrate mozzarella cheese and prepare mashed potatoes according to label directions.
Stir together the mashed potatoes. Spread into a greased 2 1/2-quart casserole dish making a shell across the bottom and up the sides.
Mix 2 cups of velouté according to the label directions.
Mix the velouté, 3/4 cup cheddar cheese, chicken, peas, corn, mustard, garlic powder, and pepper. Spread mixture into the mashed potato shell.
Bake for about 30 minutes or till hot.
Top with French-fried Onions, and the remainder to the cheese. Bake for 5 more minutes.