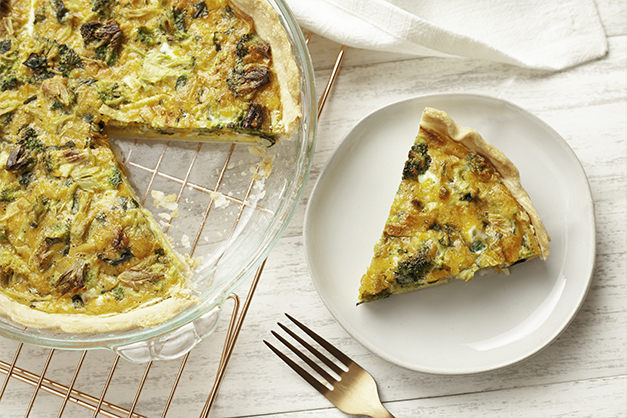 10m prep time
35m cook time
1 servings
Vegetarian Broccoli & Cheese Quiche
By Thrive Life
Warm and comforting, this broccoli cheese quiche is a winter must-have. Add your favorite Thrive Life meats and vegetables to make it your own. Your family's new favorite recipe is just minutes away. Tip: Buy store-bought crust to save extra time, no need to pre-bake the crust. Thrivealized Recipe inspired by Kristine's Kitchen Blog
2 cups Thrive Life Broccoli
5 large eggs
3/4 cup milk (we used whole milk)
1/2 teaspoon salt
1/4 teaspoon pepper
1 cup Thrive Life Cheddar Cheese
1/4 cup Thrive Life Onion Slices
1/4 cup basil
1 9-inch whole wheat pie crust
Preheat oven to 375°F (190°C).
Roll out pie crust, if not already shaped, and chill until ready to use.
In a large bowl, whisk together the eggs, milk, salt and pepper. Stir in Thrive Life's Broccoli, Cheddar Cheese, Onion Slices, and basil. Pour into the prepared pie shell.
Bake quiche for 35-40 minutes, until eggs are set in the center. Check on quiche starting at 25 minutes and tent with foil if the crust is browning too quickly.
Let stand for 5 minutes before serving.