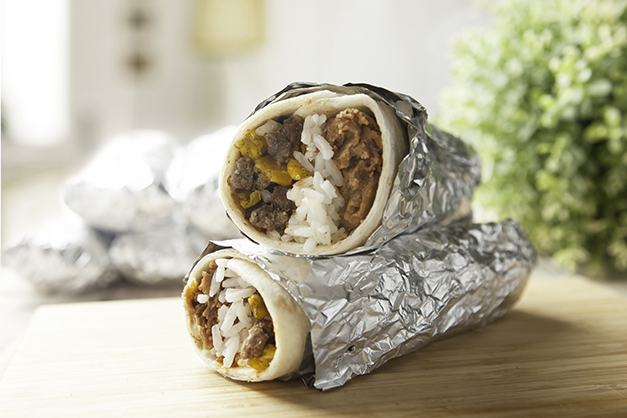 10m prep time
5m cook time
4 servings
Beef and Bean Burrito
By Thrive Life
Running out the door for dinner? Our beef and bean burrito does the trick. Get the protein you need in a pinch with our savory refried beans, juicy ground beef, and a kick of smoky flavor. A last-minute meal never tasted so good. Thrivealized Recipe inspired by Girl Heart Food
1 1/3 cup Thrive Life Instant Refried Beans
½ cup Thrive Life Instant White Rice
1 cup Thrive Life Ground Beef
4 teaspoon olive oil
½ cup Thrive Life Sweet Corn
¼ cup Thrive Life Chopped Onions
1 teaspoon chili powder
½ teaspoon ground cumin
¼ teaspoon salt
¼ teaspoon pepper
½ teaspoon garlic powder
4 large flour tortillas
Rehydrate Thrive Life Instant Refried Beans, Instant White Rice, and Ground Beef according to the instructions on the can.
While rehydrating, prepare the corn mixture by heating olive oil in a 10-inch non-stick frying pan over medium heat. Add Thrive Life Sweet Corn and Chopped Onions, chili powder, cumin, salt, pepper, and garlic powder to the pan and stir for 3-5 minutes or until tender and crisp.
To assemble each burrito, layer Instant Refried Beans in the center of the tortilla (about ¼ cup per burrito), about ¼ cup of Instant Rice on top, ¼ of corn mixture and ¼ cup of Ground Beef Serve with your favorite salsa and enjoy!