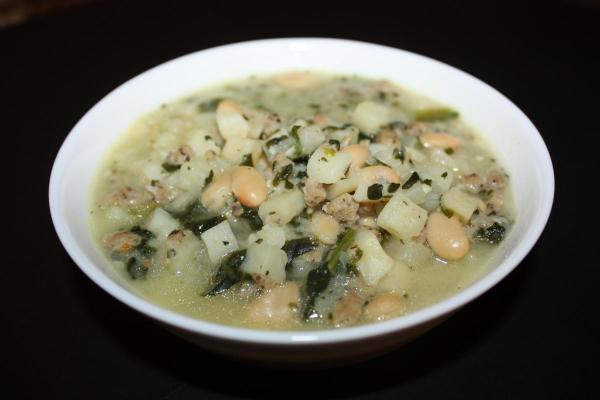 5m prep time
30m cook time
10 servings
Potato Sausage Soup/ "Zuppa Toscana"
By Thrive Life
Potatoes, sausage, in a savory chicken broth seasoned with garlic and onion, etc. by Amy Koski
10 c. Water
3 c. THRIVE Potato Chunks
1 1/2 c. THRIVE Sausage Crumbles
3/4 c. THRIVE Chopped Onions
3 tbsp. THRIVE Chicken Bouillon
2 tbsp. Minced garlic, from a jar (may want to use less if using fresh cloves).
1 can Great Northern Beans Canned, rinsed and drained
1/2 c. Warm water
3/8 c. THRIVE Milk
2 tbsp. White Flour (All Purpose Unbleached Flour)
1 c. THRIVE THRIVE Chopped Spinach
Place: The 10 cups of water, potato chunks, sausage, onion, chicken bouillon, garlic and beans (rinsed and drained) in a 6 quart pot. Bring to a boil and boil for 10 minutes.
While the soup is boiling, combine the 1/2 cup of Warm water, 2 Tablespoons flour, and 3/8 cup of powdered milk into a glass jar with a lid (or other container with a lid) and shake until combined well.
After the soup has boiled for 10 minutes, reduce heat to low, add the Milk/flour mixture and the spinach into the pot and stir. Cover and simmer for 10 minutes.
Turn the heat off and let the soup rest and thicken for about 10 minutes (or more if you have time). This soup thickens with time and is amazing the next day. To make Gluten free substitute Cornstarch instead of Flour.
If serving the next day, heat the soup up and if the consistency is still really thick, you may need to add a little milk or water depending on the consistency you like.