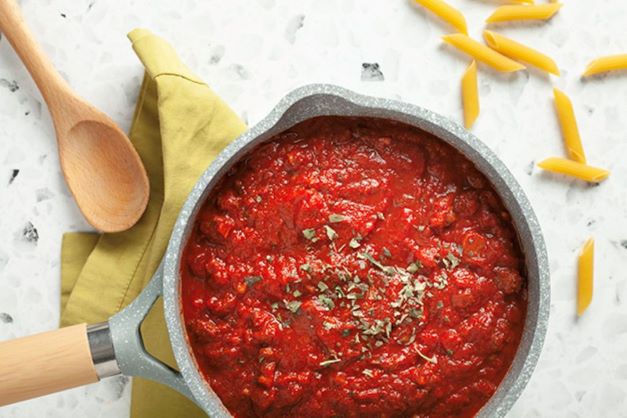 5m prep time
10m cook time
0 - 6 servings
Thick & Hearty Tomato Sauce
By Thrive Life
Try a delectable tomato sauce recipe with ground beef. This tomato sauce with meat is thick and hearty. It is a quick and easy recipe that is great for kids and the whole family for lunch and dinner. Spread this tomato sauce over pasta, lasagna, or dip garlic bread in it. It's also gluten-free!
1 cup Thrive Life Ground Beef
1/2 cup Thrive Life Mushroom Pieces
1/4 cup Thrive Life Chopped Onions
1/2 cup Thrive Life Tomato Dices
1 cup Thrive Life Tomato Powder
3 cups water
1 cup reduced sodium beef broth
2 Tbsp. dried parsley flakes
1 Tbsp. brown sugar
1 tsp. dried basil
1 tsp. dried oregano
1 tsp. salt
1/4 tsp. black pepper
Heat a 3-quart saucepan over medium heat and add a small amount of oil. Briefly sauté ground beef, mushrooms, and onions.
Add water and beef broth. Slowly whisk in tomato powder, Add tomato dices, brown sugar and remaining seasonings. Let simmer for 10 minutes stirring occasionally.
Pour onto your favorite pasta and serve.