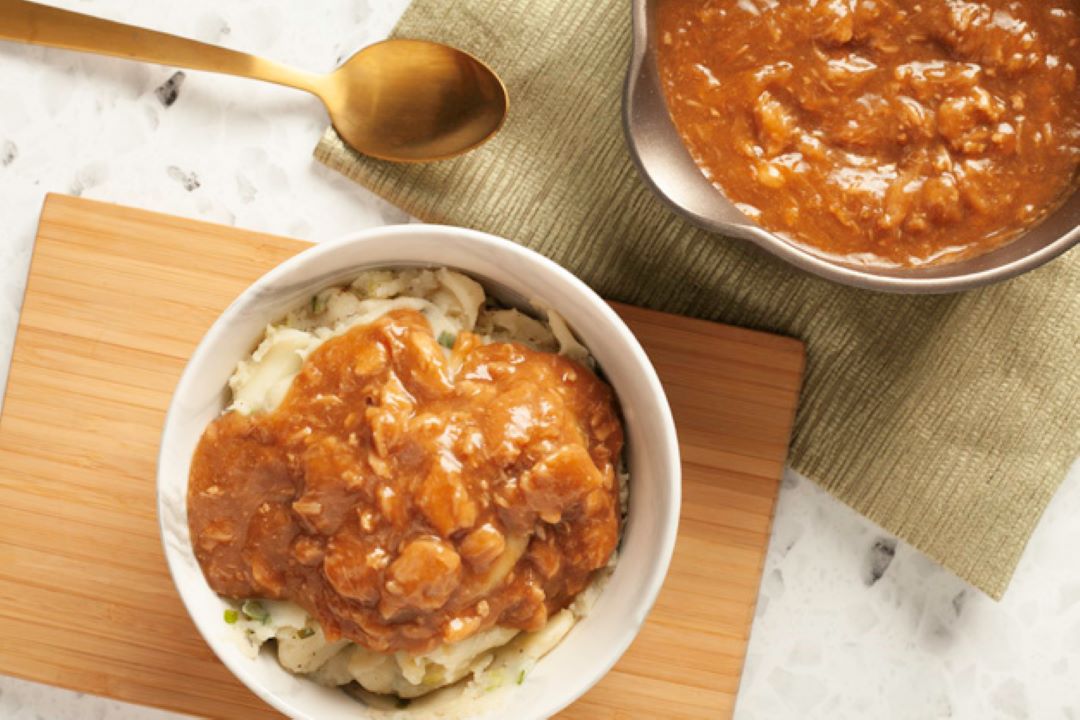 10m prep time
10m cook time
0 - 1 servings
Sour Cream & Onion Mashed Potatoes with Pulled Pork Gravy
By Thrive Life
Enjoy a delicious, easy Mashed Potatoes recipe with pulled pork gravy. This savory recipe is great for lunch or dinner and takes only 20 minutes to make with Thrive Life freeze dried foods, including our long-lasting sour cream powder that tastes just like real sour cream, because it is! A perfect recipe for one person or the whole family. If you're gluten-free, choose a gluten-free brown gravy mix.
SOUR CREAM & ONION MASHED POTATOES
1/4 cup Thrive Life Green Onions
2 tsp kosher salt
2 tbsp unsalted butter
2 tbsp Thrive Life Sour Cream Powder
1 1/4 cups Thrive Life Mashed Potatoes
1/4 tsp black pepper
1 cup water
PULLED PORK GRAVY*
1 cup Thrive Life Pulled Pork
2 packets brown gravy mix
2 cups water
2 Tbsp butter
*Makes enough gravy for 3 bowls of mashed potatoes.
In a small saucepan, bring 1 cup of water to a boil. Add green onions, salt and butter. Quickly whisk in sour cream powder and mashed potatoes.
Remove from heat and stir in black pepper.
In another small saucepan, melt butter, and stir in pulled pork. Add gravy powder, water and whisk. Allow gravy to simmer until it thickens up, stirring occasionally
Scoop potatoes into a small bowl and pour gravy over the top.