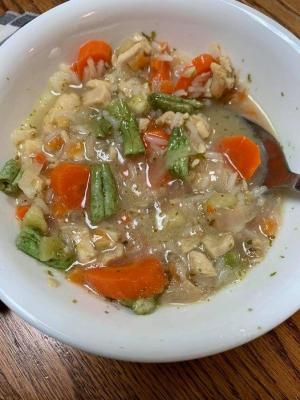 10m prep time
30m cook time
4 servings
Greek Lemon Chicken Soup with Rice
By
Hearty, comforting chicken soup is food for the soul. But add a couple of lemons and it turns into something spectacular. In North America we don't use lemons enough. Too bad for us. Take a lesson from Greek cooking where lemon is the star ingredient ~ Recipe by Cindy Suelzle
1/4 c. Olive Oil
1/4 c. THRIVE Carrot Dices if you don't have this, use 2 finely chopped or grated carrots
1 c. THRIVE Celery - Freeze Dried (if you don't have this, finely chop 2 stalks celery)
1 c. THRIVE Chopped Onions - Freeze Dried (if you don't have it, dice 1 lg onion)
2 clv. garlic, minced
8 c. chicken broth (I use Thrive Chicken bouillon if I don't have freshly made chicken stock on hand)
2 Bay Leaf (fresh if available, but dried is fine too)
1 tbsp. Salt - less if using Thrive Chicken Bouillon; taste to test.
2 c. THRIVE Chopped Chicken - Freeze Dried (if you don't have FD, use same amount of cooked chicken chopped)
1 c. White Rice
1 tbsp. Dried Oregano leaves; crushed by hand
2 lemons, cut in half and juiced (remove seed); if you do not have fresh lemons, use heaping tablespoon of Thrive Lemonade Powder, and Yes, you read correctly)
1 tbsp. Dried Parsley leaves; crushed by hand
Saute FD onions, carrots, celery and garlic in olive oil just till lighthly browned and aromatic - 1-2 minutes over med high heat. If using non FD options, saute till tender 5-10 minutes.
*hint: Thrive Dehydrated Carrots have a highly concentrated carrot taste so don't over do it. Less is more. 1/4 cup is a enough!
When FD vegetables are lightly toasted in oil and they smell wonderful, pour in 8 cups chicken broth.
Salt if needed. If using Thrive bouillon you might not need anymore salt. Always taste test to be sure.
About 15 minutes in, when rice is nearly tender, add Thrive chopped chicken and return to gentle simmer till rice is done for another 5 minutes.
If using non FD chicken, either precook and add at the end, or chop and add to hot water to cook with rice. Stir frequently to keep rice from settling and to prevent scorching.
When rice is tender, turn heat off. Add the juice of two lemons and dried parsley. This is the time to add the FD Green Beans or other FD green vegetable of your choice - if using. They only need to be refreshed and that will take five minutes or less depending on what you're using.
OPTIONAL (BELOW)
add fresh carrot pieces when you add the rice to lightly simmer to tenderness, for colour and texture
add Thrive FD green beans at the last few minutes before serving, after heat has been turned off - just enough time to fully refresh; for colour and texture
use freshly ground or even crushed peppercorns, a heaping teaspoon at least
Let the soup sit for five minutes after heat is off. If it is getting too thick, add a little water as needed,
Serve and enjoy.