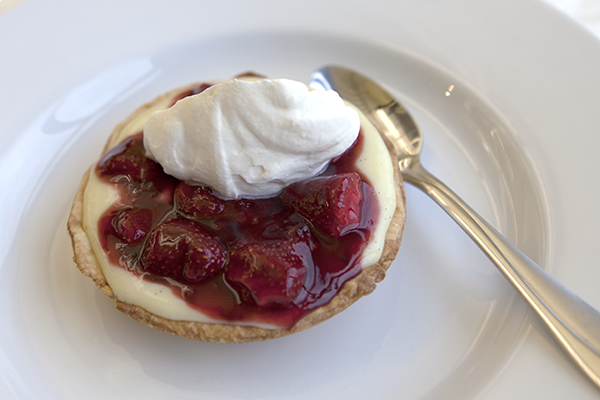 40m prep time
30m cook time
6 servings
This gourmet dessert will add elegance to any dinner or party. -by Todd Leonard CEC
Pastry Cream
2 c. water
2/3 c. THRIVE Instant Milk powder
1/2 c. Cane Sugar
1/4 tsp. Iodized Salt
4 egg yolks
1 1/2 tbsp. cornstarch
2 tbsp. butter, cold
2 tsp. vanilla extract
Fruit Topping
1 3/4 c. water
1/2 c. THRIVE Honey Crystals
2 tbsp. Cane Sugar
1 tsp. vanilla extract
1 1/2 tbsp. lemon juice
2 c. Whole Strawberries - Freeze Dried
1 1/2 c. THRIVE Blackberries - Freeze Dried
1 1/2 tbsp. cornstarch + 2 tbsp water
Crust
1 1/4 c. White Flour (All Purpose Unbleached Flour)
2 tbsp. Cane Sugar
1 tbsp. THRIVE Scrambled Egg Mix
1/2 c. butter, chilled and cubed
3 tbsp. ice water
For pastry cream:
Combine water, milk powder, ¼ cup of the sugar, and salt in a medium saucepan. Cook over medium heat until milk starts to steam.
In a medium size bowl, whisk together egg yolks, cornstarch, and remaining sugar.
Slowly pour scalded milk into egg mixture a little bit at a time until eggs are tempered.
Pour mixture back into saucepan and cook over medium heat, whisking constantly until it thickens (2–3 minutes).
Transfer to electric mixer with paddle attachment. Add butter and vanilla and beat on medium speed until butter melts.
Cover with plastic wrap, pressing it directly onto surface of cream to prevent skin from forming. Refrigerate until chilled.
Just before serving, beat on low speed in mixer until smooth.
To make crust:
Combine flour, sugar, and Scrambled Egg Mix in a food processor.
Add butter and process until mixture resembles coarse meal (10–20 seconds).
Slowly drizzle in ice water while mixing. Mix until dough holds together without being wet or sticky.
Divide into 6 equal balls. Flatten each ball into a disk and wrap in plastic.
Chill dough for one hour. Roll out each crust until ⅛" thick. Press dough into 4" tart pans. Place pans in freezer until dough is chilled (about 20 minutes).
Place pie weights (can use beans) in each tart with parchment between it and bake at 400⁰F for about 15 minutes.
For fruit topping:
Combine water, honey crystals, sugar, vanilla, and lemon juice in a small saucepan and bring to a simmer. Add fruit and stir lightly.
Drizzle in cornstarch slurry while stirring. Allow to simmer for 1 minute and instantly remove from heat and cool in ice bath.
Add pastry cream to cooked tart shells, filling almost to top and making a small indent in the middle for topping.
Top with berry mixture and allow to cool slightly before serving.