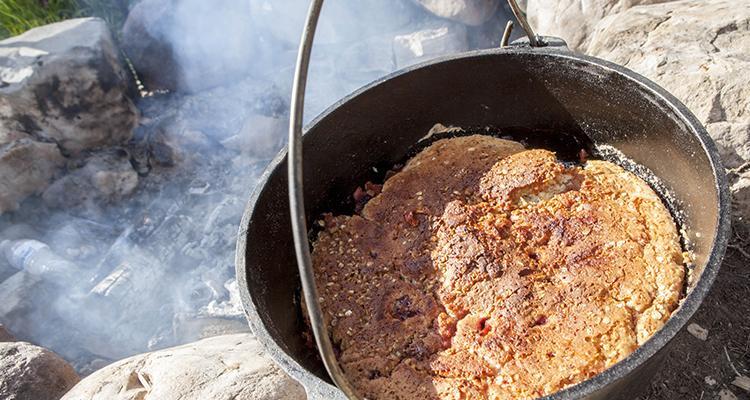 25m prep time
25m cook time
9 servings
Apricot, Pear, and Blackberry Cobbler
By Thrive Life
A sweet dessert that can be whipped up wherever you go! - by Todd Leonard CEC
Fruit Syrup
1 c. THRIVE Pears - Freeze Dried
1 c. THRIVE Blackberries - Freeze Dried
3/4 c. Cane Sugar
1/2 tsp. Cinnamon
1 1/2 c. THRIVE Apricot - Freeze Dried
1 tbsp. Pure Vanilla Powder - Spice Can
1 pn. Iodized Salt
4 tbsp. Butter
2 3/4 c. Water
Cake
1 1/2 c. White Flour (All Purpose Unbleached Flour)
1/2 c. Cane Sugar
1 tsp. Baking Powder
1/4 tsp. Iodized Salt
1 1/2 tbsp. THRIVE Instant Milk
1 1/2 tbsp. Vegetable Oil
3 tbsp. Butter, melted or soft
1 tbsp. Pure Vanilla Powder - Spice Can
2 tbsp. THRIVE Scrambled Egg Mix reconstituted with 4 tablespoons water
1/4 c. Cream Soda
Streusel Topping
1/4 c. Brown Sugar
1/4 c. Quick Oats
1/4 c. White Flour (All Purpose Unbleached Flour)
1/4 c. Butter
1/4 tsp. Cinnamon
1 tsp. Pure Vanilla Powder - Spice Can
To make the fruit syrup add all ingredients to a 12 inch dutch oven and simmer until lightly thick about 5 minutes.
To make the cake mix all ingredients together in a bowl and whisk for about 1 minute vigorously.
To make the streusel topping mix all ingredients in a zip lock bag until crumbly.
Pour the cake batter over the simmered fruit syrup and then top with the streusel topping.
Bake in the dutch oven using coals @ 350 for 25 minutes or until caramelized and batter set.