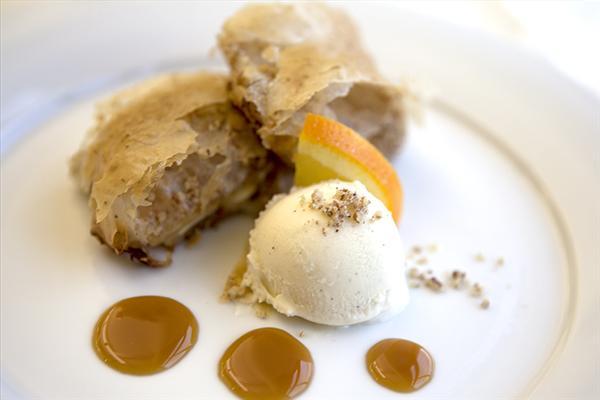 12m prep time
18m cook time
8 servings
Apple Strudel
By Thrive Life
Flaky, delicious strudel stuffed with THRIVE Apples! - by Todd Leonard CEC
4 1/2 c. THRIVE Granny Smith Apple Slices - Freeze Dried
1/2 c. orange juice
1/2 c. water
1 tsp. vanilla extract
1/2 tsp. cinnamon
1/4 c. Cane Sugar
1/2 c. pecans
1/2 tsp. orange zest
6 oz. butter, melted
10 sheets phyllo dough
Add pecans to a food processor and pulse a few times. Remove ¼ cup while still large pieces. Continue processing remaining ¼ cup until finely chopped. Keep rough and finely chopped nuts separate.
Measure apples by pressing firmly into a 1 cup measuring cup and place in bowl. Break apple pieces in half by pressing with heel of hand.
Mix in orange juice, water, vanilla, cinnamon, sugar, large pecan pieces, and orange zest. Stir well and allow to sit for 5 minutes.
Melt butter and place a pastry brush in butter to soak. Prepare 2 rolls with 5 sheets of phyllo dough each, layering butter and finely chopped nuts between each sheet. Divide apple mixture into two equal parts for each roll.
For each roll, place ⅔ of the filling in an even row across the long edge of dough. Roll dough one whole turn and place remaining ⅓ filling on dough (should be center of roll). Roll the rest of the way tightly, being careful not to tear dough.
Place strudel on a baking sheet and brush top with butter again. Bake at 375⁰F for about 18 minutes or until golden and flaky.