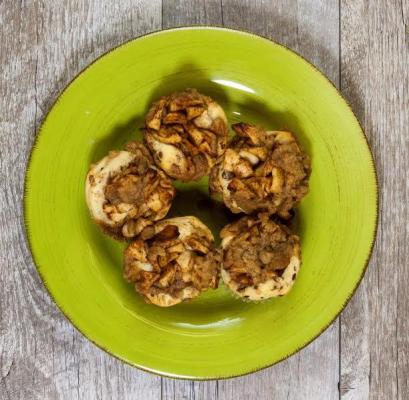 5m prep time
10m cook time
4 servings
Apple Pie Cupcakes
By Thrive Life
It's easy to whip up dessert when all the prep work is done!2 - by Emily Thrives
2 c. THRIVE Granny Smith Apple Slices - Freeze Dried
2 tbsp. Brown Sugars
1 tsp. Ground Cinnamon
1 ct. Cinnamon Roll Dough
Toppings
1/4 c. Brown Sugars
1/4 c. White Flour
2 tbsp. Butter, salted
Dice the apples into small pieces and refresh.
Melt the butter in a skillet and add the apples. Let them simmer for 1-2 minutes.
Add the brown sugar and cinnamon, then mix well.
In a separate bowl, add the toppings ingredients and mix until well combined.
Open the cinnamon roll dough package and flatten the rolls into 4 inch rounds.
Spray the muffin pan with non-stick spray, then fill each section with one piece of dough.
Add a scoop of the topping mixture to the top of each muffin. Add a sprinkle of cinnamon if desired.
Bake at 400 F for 10-12 minutes, or until golden brown. Enjoy!