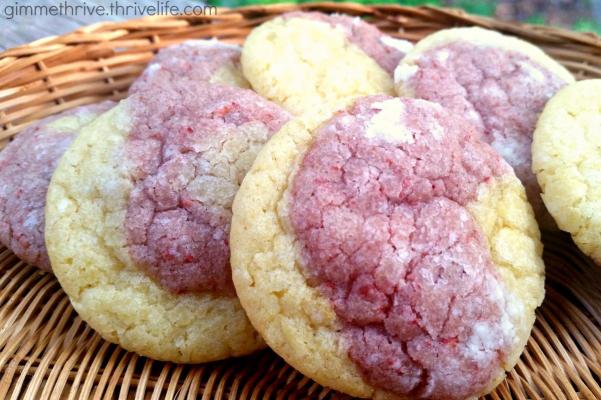 45m prep time
15m cook time
4 servings
"Gimme Thrive" Lemonberry Cookies
By Thrive Life
The taste of summer in a delicious cookie! - by Julie Finlayson
3/4 c. butter, softened
1 egg
2 tbsp. water
3 1/3 c. Vanilla Sugar Cookie Mix
1 c. THRIVE Strawberry Slices - Freeze Dried
1/2 tbsp. Classic Lemonade (Seasonal)
1/2 c. Powdered Sugar
3 drop yellow food coloring (optional)
Cream butter in a mixer bowl with batter blade until light and fluffy. Add in egg and water and mix well, stopping to scrape down sides of bowl.
While mixer is on low, slowly add in the cookie mix. Mix until the dough forms and pulls away from sides.
Divide dough in half leaving one half in the mixer bowl and the other half in another bowl.
Using a blender or food processor, process strawberries into a fine powder. Knead the strawberry powder into one of the dough halves until incorporated thoroughly.
In the other dough half, knead in the lemonade mix (and food coloring, if using) until incorporated thoroughly.
Form each dough half into a log about 14-15" long. Place logs side by side on plastic wrap and press together gently. Cover completely with the plastic wrap and refrigerate for 30 minutes.
Preheat oven to 325 degrees. Take cookie dough log out of refrigerator.
Unwrap the dough. Cut a 1/4" slice from one end, roll gently into a ball, roll in powdered sugar, and place on cookie sheet.
Repeat to fill cookie sheet (leaving 2" around each ball). Wrap and return remaining dough to refrigerator.
Bake cookies for 15 minutes. Remove from oven and allow to cool for 1-2 minutes before carefully removing to a cooking rack.
Repeat cookie forming steps until all dough has been used.