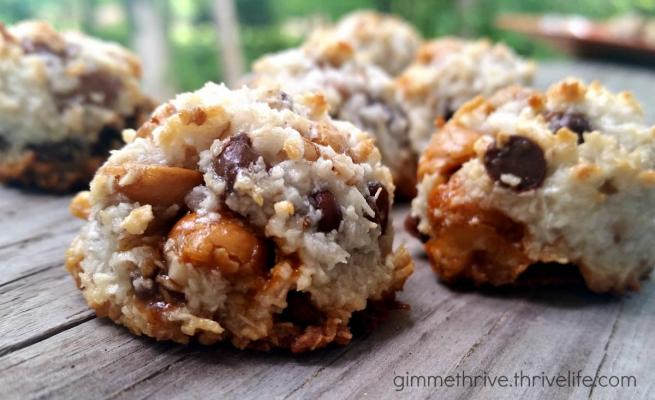 "Gimme Thrive" 7-Layer Bar Macaroons
By Thrive Life · 20 servings
10m prep time
15m cook time
You know those 7-layer bars we all love? Meet their cookie cousin! Makes about 4 dozen. - by Julie Finlayson
Print recipe
---
Ingredients
3 1/4 c. THRIVE Macaroon Cookie Mix
1/2 c. boiling water
1/2 c. chopped pecans
1/2 c. butterscotch chips
1/2 c. semisweet or milk chocolate chips
Directions
Preheat oven to 350 degrees.
Combine cookie mix and water in a mixing bowl.
Stir well to combine. Set aside to rest for 5 minutes.
Add nuts and chips to cookie mixture and stir well to combine.
Scoop cookies onto greased cookie sheet using a 1.25"-diameter cookie scoop.
Bake for 15 minutes.
---